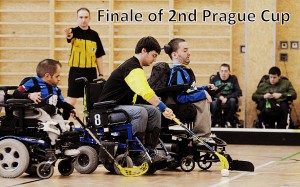 We spent two days full of games, lots of adrenaline and we have beautiful new experiences. The participants arrived on Thursday evening. First team, which arrived to Prague, was RHODIE Belgium. They had spent 12 hours on the journey, because their car had gone wrong. Next came the team from Slowenia (The Trouble Makers), Italy (Dream Team H.C. Milano), Netherlands (BISO'65), whose huge bus looked very formidably in the small streets of Vysehrad, and the last team was from Germany (Torpedo Ladenburg). Cavaliers Prague didn´t have so long way. All teams were accommodated and also the trouble with broken elevator was solved quickly.
Friday was very exacting day, because seven teams had arrived to Prague to participate of our tournament and we could not make two playing groups. Every team had to play with every team. Therefore we had made the playing time shorter and we hope teams didn´t have big problems with it so much matches. We have prepared the hall, had found the lost Belgians (Radotin and Radlice is not the same, although it probably sounds like the same) and we could start.
As we have written many times, our team is a new team, most of our players aren´t so experinced and we play together very short time, so our main ambition was to play well and got as little as goals, and we managed it. Most goals, a total of 9, gave us a team Torpedo Ladenburg, who belongs to a European, exactly world class. We just started with strong Germans. This game was very nice, all trying to play what they have to do. But our player Denis had hurt his arm, so our newest player Jitka had to replace him and it was her first international match. And she managed it well. All players demonstrated nice game. At the end of the day we were tired, but I think we could be satisfied. This day ended approximately at seven o´clock at the afternoon.
There were play-off matches, semifinal and final matches at the Saturday. We were in a group on the final location of the 5th to 7 place. From the semifinal matches were selected two finalists – Torpedo Ladenburg and a Dream Team H.C. Milano. The match was very exciting; we could see the world top EWH, because players from both teams played on the World Cup. The match ended 3-1 for Germany and therefore they could celebrate another winning.
There were several interesting events during the tournament. Firstly, it was the tournament full of falls. So many falls or dangerous situations I have not seen for two years. And another interesting moment for me was a red card for goalkeeper of Cavaliers Prague, because he had shifted the gate on the referee. The Cavaliers had to play in four, but Torpedo expressed solidarity and one of his players also sat on the bench.
The final ceremony took place on the top of high building in Pankrac. There was so nice view of Prague. We almost had had to start without the Italians, who somewhere wandered, because all were hungry, but they eventually arrived. As I mentioned, our tournament won team Torpedo Ladenburg, second was the Dream Team HC Milano, in third place was RHODIE Belgium, the fourth were the Cavaliers Prague, BISO'65 was fifth, sixth was Trouble Makers and on the seventh place was our team – Jaguars Prague. And individual prices: Top scorer was Paul Emmering from team Torpedo Ladenburg, as the best T-stick player was elected Pim Boom from team BISO'65 and the coaches and captains elected as the best goalkepeer me, Jana Starkova from team Jaguars Prague. And I am very happy, thank you all so much.
The dinner was very pleasant in an atmosphere of celebration and bird's-eye perspective. And it was very touching when all teams said goodbye and they thanked us for good tournament. The organisers were happy for this. We hope everyone will come to Prague next year. I think we managed to make all components of the tournament were at the highest level – accommodation, sportshall and place for the final dinner.
We thank the police officers of the City Police, who were our timekeepers and finally sponsors who provided gifts – RWE, IDNES and bytyIHNED.cz. And thank you to all teams that participated and we look forward to next year!
Final results
1. Torpedo Ladenburg
2. Dream Team Milano
3. Rhodie Belgium
4. Cavaliers Praha
5. Biso´65
6. The Trouble Makers Ljublana
7. Jaguars Praha