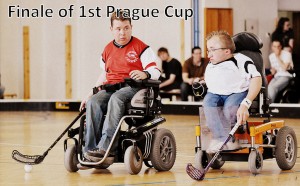 The first international EWH tournament in Prague took place in days 8. and 9. 5. 2009 in areas of Metropolitan University Prague and Secondary technical school of building and gardening. Ten teams came and eight of them were foreigners.
The finale match was played by two teams from the Netherlands and the team Star riders beat the team De Pont Rotterdam 8:5. The third place gained Torpedo Ladenburg when they won the match with Munich Animals. Czech teams didn't unfortunately get in the semi-finals fights.
In successful organization except of organizing team EWSC LITA SPORT Praha participated the police of city Prague, who enabled participants to visit Prague's sights on Saturday. And officers helped with much more. Metropolitan University Prague helped significantly with organization before and during tournament as well. A big thanks belongs to the ninth urban district of Prague and Prague City Hall.
Final results
1. Star Riders
2. De Pont Rotterdam
3. Torpedo Ladenburg
4. Munich Animals
5. Red Devils
6. The Trouble Makers Ljublana
7. Blue Devils Genova
8. Sharks Monza
9. EWSC LITA SPORT Praha (dnes Jaguars Praha)
10. Snow Wolves Lázně