The dormitory of Jedlicka Institute and schools
There are everything you need – non-barrier access, equipped rooms and non-barrier bathrooms. Rooms are for a 2 – 3 people. And the Jedlicka institute is placed beside one of the most famous sights of Prague – Vyšehrad. There is beautiful view of Prague.
---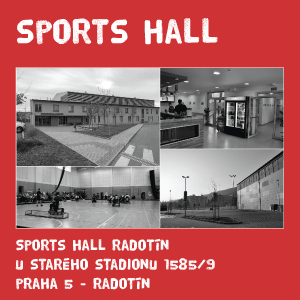 Sports hall Radotín
Non-barrier hall with excellent facilities for sports tournaments. There is enough space for two fields for PH and for all teams and their move-ment. There is also excellent background of the hall for using – non-barrier changing rooms with shower and toilet, the snack bar with an-other non-barrier toilet. There is possibility to watch the matches from the non-barrier dedans. The total capacity of the dedans is 300 people. And there is also large parking lot for players and other visitors.