The dormitory of Jedlicka Institute and schools
There are everything you need – non-barrier access, equipped rooms and non-barrier bathrooms. Rooms are for a 2 – 3 people. And the Jedlicka institute is placed beside one of the most famous sights of Prague – Vyšehrad. There is beautiful view of Prague.
---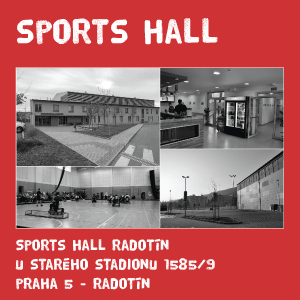 Sports hall Radotín
Non-barrier hall with excellent facilities for sports tournaments. There is enough space for two fields for PH and for all teams and their move-ment. There is also excellent background of the hall for using – non-barrier changing rooms with shower and toilet, the snack bar with an-other non-barrier toilet. There is possibility to watch the matches from the non-barrier dedans. The total capacity of the dedans is 300 people. And there is also large parking lot for players and other visitors.
---
MeetFactory
MeetFactory is an international center for contemporary art of which meaning is to support a develompent of this art and open it to the public. Many art genres (graphic arts, music, theatre, film, photography, literature) and all generations are meeting here. MeetFactory was founded in 2001 and later was forced to move to an industrial building in Prague's quarter Smíchov because of destructive floods. This building was originaly a glass factory  founded in 1920s. The production line of cut glass closed down in 1935 and then the building was used by Škoda company for the manufacturing of diesel engines.  During the 1990s, the building was deserted.